TESTIMONIALS
When choosing a real estate professional, get to know their history! Here are a few testimonials from our past clients: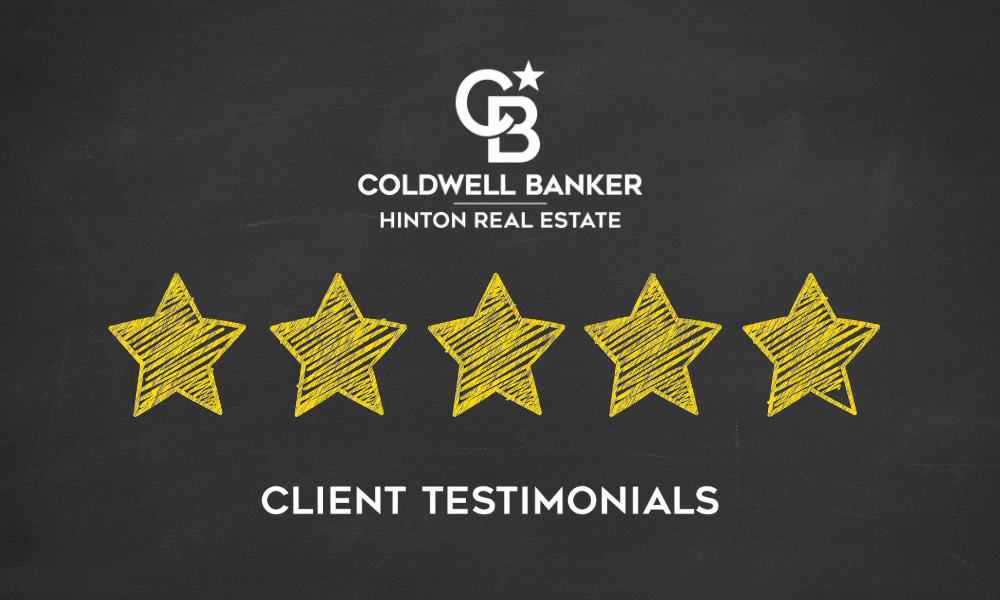 Perseverance and Attention to Detail
We recently completed a home sale with Coldwell Banker Hinton Real Estate, thanks to our Agent, Deb Workun. The market was slow. We had the house listed for 18 months, but thanks to Deb's perseverance and attention to detail , we did find a buyer for the property. I cannot say enough about Deb's hard work, timely advice and a keen sense for the market situation in Hinton. Without her we would probably still be sitting on the property. She went above and beyond the scope of a typical Real Estate agent. With frequent checks on the house, communicating with neighbours and our renter, and keeping us informed of the nuances of the market situation.
She was a pleasure to work with; friendly, professional and above all we really got the sense that she cared about our situation and the fact that we lived 3 hours away. If all Agents cared as much as Deb did, selling a home would be a stress-free experience!!
K.W.
Expertise & Advice Invaluable
Thank you to everyone at Coldwell Banker for all the help you gave us! You made everything easier for us!
Conscientious
Melissa is an excellent communicator with a very good sense of humour and a down to earth approach. She is conscientious, intelligent and very careful. Her organizational and management skills are exceptional.
J.U.& B.U.
Awesome Service
I would like to thank Pat and Dennis for their awesome service. They went above and beyond their responsibilities.
F.T. & T.T.

Great Organization
Roxanne was Great help while completing the offer and with home inspection issues. Great organization on how to complete the transaction on time."
Highly Recommend
My husband and I retained Melissa in the spring of 2015 to sell our current house and to purchase a larger home for our family. Melissa listed our house very quickly. When deciding on a listing price she did very thorough research and presented it to us in a clear manner. It was important to her that we were comfortable with the listing price and every other decision that comes along with listing a home. She took excellent showcase pictures and used kijiji, newspaper ads, and Facebook to sell our home. We were also able to reach her anytime of the day or evening. If we had a question she would quicky reply with answers. When it came to searching for a new home she showed us every house in Hinton that fell into our price range. When we finally did find our new home she assisted with the paperwork and was a lot of fun on move in day. After we moved in for various reasons we needed to contact the owner of our old house and past owner of our new house. She facilitated these contacts with no complaint even though her job was done. Both my husband and I would highly recommend Melissa to anyone looking to buy or sell a home. She was very personable, understanding, and available.She also really knows the real estate market in Hinton.
N.B.
Very Knowledgeable!
Pat and Dennis were very knowledgeable about the property and went to great lengths to secure the house for us. They were helpful and friendly! We will recommend them to our friends and family. Thank-You!
K.B. & C.W.
So Happy
Dean was great! So happy with our new home.
Exceptional Job
Melissa did an exceptional job. She was very quick to list and get it on the market and sold. She was very pleasant to work with and we will use her again! Thank you!
G & D
Very happy
We are very happy with all the work that was put in for us buying this house.
H.K. & K.K.
Patient and Understanding
Holly was very patient and understanding with our needs. She went out of the way to address every need we had. We would definitely recommend Holly to anyone selling or searching for a new home.
Professional & Personable
Pat was extremely great to work with – very friendly, professional and personalbe. It will be sad to not see her anymore. She found us the perfectd house!
M.L.
True Pleasure
A pleasure working with the Realtors. They provide fact based advice and worked with us in making the sale. A true pleasure.
The P's
Great Experience!
The sercice we received wast above and beyond. Our Realtor was very professional and personable. Great experience. We would definitely recommend to others!
D.C. & K.C.
Very Responsive
I researched first, saw a listing video of Melissa's and contacted her. She was awesome! Melissa is on the ball, highly tuned in to my needs, worked diligently at making things work. She understood and valued my opinion and was very responsive to my inquiries. I'll use her again and refer her in a heartbeat.
K.C.
Honesty
Melissa was referred to us by a friend. We are happy to let you know that Melissa saved me a lot of time with her attention to details and most importantly, her honesty through out the process of purchasing our new home.
C.G.
So Thankful
Thanking Holly is not enough. She was so helpful throughout our journey in getting our home. One of the best agents that I have dealt with. She really is an asset! Thank you.